According to the developers, the unique play-and-earn system has offered folks who own these crypto collectibles the chance to start their land job. This virtual metaverse office is built on the first playable NFT land plot on Ertha (1).
Players who access Ertha's Early Beta will be able to see and experience the modern, fully operational KuCoin office (2), which is also claimed to be an exciting place for users to visit. Users can immerse themselves in the live cryptocurrency charts and truly experience the trading floor visuals, creating a reality-based experience.
Over 24,000 land plots have reportedly been purchased, according to statistics, and a 30 percent discount is currently being offered for a limited time.
Additionally, Ertha is maintaining its top spot in the GameFi industry's technological meta race. A few projects in the Ertha ecosystem have already successfully attracted well-known brands. KuCoin's support strongly indicates the market's confidence in Ertha's long-term potential (3).
Ertha asserts that it is committed to cultivating a space where people may play and learn, in addition to a space where they can play and earn. The character's skills and the user's real-world knowledge can both be leveled up in the most recent v0.3 beta (4). The portal now offers a plethora of quick tests packed with interesting questions, with a leaderboard identifying the top competitors.
Ertha was greatly enhanced in response to the constructive user feedback by providing a more aesthetically pleasing mechanism that was not feasible before the web-based version and improving mechanisms that are now adequately client-exclusive.
Since this game is based on a real-world map and its real-world locations where users can start battles, establish businesses, develop relationships, and even engage in politics, the possibilities of what users or players can gain are akin to the imaginative unlimited perspective.
All of these interactions combine to form a cohesive narrative in the Ertha ecosystem where mankind is on the verge of extinction, and world leaders have failed in their efforts to save the planet. Users and players now have the chance to right the wrongs by starting from scratch and establishing each player's actions to have a lasting impact in this evolving metaverse; unlike other games, this one even allows users to leave a legacy.
Ertha Verse
One of the most eagerly awaited projects in the metaverse, ERTHA (5), also has its native token on the Huobi Primelist (6). These play-to-earn and play-to-learn games are ready to provide customers with a one-of-a-kind experience. The company's remarkable ascent undoubtedly attracted the largest names in Defi, and Ertha's enviable reputation within the GameFi industry also welcomed high-profile investments and beneficial partnerships.
With a team committed to creating and highlighting NFT games, Ertha has also teamed up with Cryowar (7). This next-generation play-to-earn arena brawler is powered by the Solana blockchain. This collaboration brings together two important communities because it has already begun opening up several crucial opportunistic perspectives and channels for cooperatively pushing the envelope. Now, KuCoin's entry will allow it to develop its Erthaism fully.
A new world
The Rome NFT (8) within the Ertha ecosystem is reported to have recently been sold for a whopping $120,000, setting a major new record and granting one lucky owner ownership over world-famous landmarks like the Trevi Foundation and The Colosseum.
This surpasses any prior records, including the sale of Tokyo (9) for approximately $59,000 and the purchase by a single owner of the bulk of Sweden for a price of $50,000.
In total, 360,000 land plots are available for users to purchase from the Erthaverse, and as the infrastructure develops over the coming years, Ertha anticipates a massive influx of gamers. With the marketplace in the game, which is also built on an interactive world, and large land in new nations being provided regularly, users have more chances for exploration.
Ertha also claims to create a perfect setting for consumers searching for a play-to-earn gaming experience that provides an easy-to-understand introduction to the metaverse. This ambitious roadmap gives users a lot of options to look forward to.
The primary objective of this metaverse project is to offer users a world with their problems so they can find a solution and survive in the virtual world that accurately replicates the real world with similar lands and specialized buildings. It does not address environmental crises, real-world issues, or volatile crypto-blockchain-related problems.
How can metaverse offices impact businesses' value?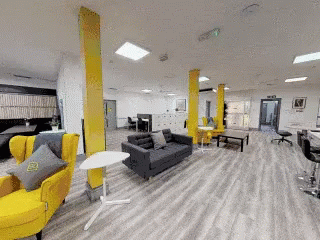 Major tech visionaries like Mark Zuckerberg acknowledged the potential of the metaverse and its capacity to establish equitable virtual world order (10). Although one of the main causes of the unequal growth of the modern world is the lack of access to resources and the imposition of physical borders.
However, the limited geographical boundaries and barriers that limit people's imaginations are far outweighed by the accessibility of the metaverse and its adaptable nature. Users can practically access any institution or university without even taking a physical step, which will have significant advantages for the educational industry as well.
Big institutions have already begun to create virtual workplaces and virtual surroundings with VR headgear that allow employees to virtually engage and react at work with different employee cultures and hierarchies. Alongside, job opportunities should also not be constrained by physical locations.
Although having a metaverse office or location would eventually improve the brand, business, or even startup performance and raise value with credibility, it would also deliver a realistic and immersive experience.
This is comparable to a pool of employment opportunities for companies and customers with far broader experience. Customers can virtually experience the store's merchandise and services from anywhere in the world, giving businesses more opportunities to expand their markets and offerings and products to a much bigger audience with no geographical borders.
The metaverse is widely regarded as one of the greatest technological advancements since the invention of the internet, and it is expected to have a significant impact on how people live, interact, and even work for decades to come. Brands are starting to rethink their business models to establish a presence in the metaverse, which offers limitless opportunities.