In 2021 Mark Zuckerberg announced that Meta (1) will be working on the development of Metaverse (2). Its main objective is to bring together its apps and technologies under the umbrella of one big company called Meta.
They strive to provide their users with a futuristic user experience, to help them connect with people, and to grow their business online.
This big decision on Meta's part has brought the whole world's attention to the metaverse projects. People have started taking interest in this project. Many major brands (3), and celebrities have also started investing their money in metaverse projects.
Many brands are looking forward to navigating in the metaverse. We can already see many gaming brands that are already involved with the metaverse project. Except for Game companies, many fashion and entertainment labels (4) have also shown their interest in this project.
Metaverse seeks to be a combination of today's online social interactions projected into a three-dimensional digital world, boosted by technologies like AR and VR.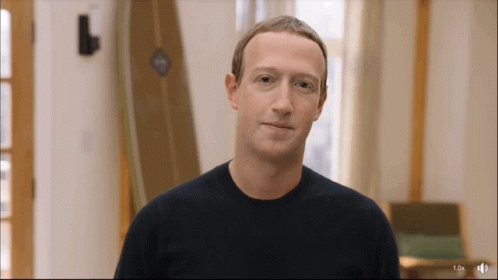 Meta is already working on the developments of virtual reality headsets, that would provide visuals that are realistic and similar to our physical world. On June 20 Mark Zuckerberg gave an overview of their recent progress with VR headsets (5).
Meta Joins the Metaverse Standard Forum
The Metaverse Standard (6) forum is created by the efforts of multiple companies who are involved with the development of Metaverse.
The forum seeks to bring together these companies and standard organizations to cooperate on the interoperability standards that are required to open Metaverse.
Many major companies like Meta, Qualcomm, and Nvidia have joined this Standard Forum. Most companies that are working toward the development of metaverse have already become a member of this forum. Surprisingly, Apple has refrained (7) itself from joining this forum, despite working on projects related to metaverse technology.
What is Apple doing?
Apple seems to be missing from this scene, even though it is considered to become one of the major players in the development of Metaverse, for now, it is keeping its distance from Meta and the forum. One likely reason for Apple not joining the forum is the fact that it has yet to launch a product in the Augmented reality space.
Although Apple is not the only tech giant that is missing, the other major tech giant that has yet to become a participant in the Metaverse Standard Forum is Google.
What about Google?
Google is another bigshot that has been missing (8) from the list of participants of the forum and people are wondering what is happening? Apparently, Google is working on a project on AR headsets. This project is called Project Iris.
Who else is missing from the forum?
Other than Apple and Google who people expect to become leading companies in the metaverse development in the near future, a few major players are also missing from this list.
These companies are:
Niantic
Roblox
The Decentraland
More about the Metaverse Standard Forum
The Metaverse Standard Forum is hosted by Khronos Group, it is open to any company or standard organization. The main objective of the forum is to have industry-wide cooperation between different companies and standard organizations.
The forum will work toward aligning and defining the requirements and concerns for metaverse standards. It does not take any charge to join the forum, the participants only have to click through the participation agreement (9).
Are you wondering who are the participants of the forum?
The List of Participants
The Metaverse Standard Forum has already garnered many companies and standard organizations as its members. To list (10) a few: Adobe, Alibaba, Epic Games, Khronos, Meta, Microsoft, NVIDIA, Qualcomm Technologies, Unity, WEB3D Consortium, etc.
How will it affect the users?
The Metaverse Standard Forum aims to create open standards for the development of Metaverses. Its first meeting is announced to be held in the month of July.
The forum is evidence that many companies are working to create common standards for the metaverse. This might result in the users getting access to products that can be used widely even across many metaverse platforms (11).
Many leading companies have expressed the need for a standard to develop open metaverses and only then would they be able to reach their full potential.
Novi: What is that?
Meta has launched 'Novi' a digital wallet for Metaverse (12). Novi as some might already be familiar with is a digital wallet that enables people to transfer money internationally.
Whether it be sending or receiving money internationally, we couldn't avoid the extra charges, but with Novi, we can do so without any charges.
The money gets transferred instantly and securely. Novi uses Pax Dollar, which is a digital currency, like other digital currencies, it runs on secure blockchain technology.
Novi will make sending money easier and more convenient. People can use WhatsApp (13) to send money to people as if they are sending messages. All they have to do so is to download the Novi app and sign up for the Novi wallet.
The money that is added to the Novi account would then directly be converted to Pax Dollars. One Pax Dollar would amount to One US dollar. Once received they can also convert Pax Dollar to US dollar by transferring it to their bank account, or by withdrawing it from the nearby location.
The project was suspended at the beginning of 2022, meta has frozen the development of Novi. It turned out to be a failure. Meta has now ditched the name Novi for Meta Financial Technologies. Novi was supposedly Facebook's crypto wallet, but due to its failure, it was suspended (14).
Before Meta's money business has changed quite a few names, first, it was called Facebook Payments, then Facebook Financial, in 2020 Novi was supposed to be the name for Facebook's crypto wallet, and then Facebook settled for the name 'Meta Financial Technologies'.
Soon, CEO Zuckerberg announced that Facebook Pay would now be called Meta Pay.
Meta Pay would be the wallet for metaverse (15).
Meta Pay Enters the Digital Wallets Arena!
In June 2022, Mark Zuckerberg declared that Facebook Pay would officially be called Meta Pay. While there haven't been many changes and the functions remain somewhat the same, the main focus is branding.
Meta pay would become a digital wallet for Metaverse, right now the company is working on a project that will allow the users to manage their payments, identity, etc. that will accommodate the metaverse.
Meta Pay might not be quite different from the previous Facebook Pay, but the move of changing the name is a clear indication of the future plans of the company (16). In the future, you might be using Meta Pay to buy virtual clothes, accessories, art pieces, videos, etc.
As metaverse is based on simulation of the real world in the virtual world, where we would no longer be bound by physical limitations. It is natural that the method of payment would also be digital.  Therefore, digital wallets would become a must for users.
Owning personal digital assets and trading them is not a new idea, if Crypto and NFT ring a bell, yes, we are talking about them. Therefore, expecting that digital assets might even take priority over physical real-world assets in the future.
Meta Pay to be Interoperable?
Well, the concept of interoperable (17) is such that users might not be required to have different wallets to store different currencies.
Does that mean we can have one wallet that could store a range of currencies? Yes, if the digital wallets become interoperable then the user won't have to use multiple wallets. They would be able to use a single Digital Wallet to store different currencies that correspond to the different metaverse.
But how would that be possible?
This is where the Metaverse Standard Forum comes into play. Since we already have an understanding of the Forum, it would be quite clear that the main objective (18) of the Metaverse Standard forum is to ensure interoperability standards are maintained by the participants to create an open metaverse.
With the forum making sure that all its participants are maintaining the standards of interoperability, it would ensure the unification of these systems and economies across various platforms.
That means you will also be able to use one single avatar in different worlds. We might even be able to accomplish cross-platform trading.
To understand this in simple words, let us take an example, like our original world, no matter where we travel to, we have the right to move our assets with us, because we are the sole owner of our Data. But when we are using the apps like Facebook or Instagram, it is not possible to move our assets from one platform to another (19).
To be honest we do not even own the content, because the domain that we are using has control over the content, if they wish they can remove them whenever. Therefore, people have now started shifting their attention to decentralized platforms that are built on blockchain technology.
With the help of the forum integration of the borderless metaverse is possible!
Discovering the Content Creators?
On June 21, 2022, Meta's CEO Mark Zuckerberg declared through a Facebook post that they will soon be releasing updates on both Facebook and Instagram, to discover content creators and help them earn money (20).
They have been testing a 'designated place' on Instagram, through which the content creators will be discovered by potential business collaborators and get paid for their content. This creator's marketplace would allow businesses to discover content creators and offer them partnership opportunities.
So, how does this marketplace work?
Well with the help of the market place the business can find content creators according to their requirements. They can then send the project details to the creators and then negotiate with them about details of payment, etc.
But how will the creator view this partnership?
The creators would be able to view the partnership offers through a partnership messaging folder. This folder would be within DMs. The content creators could then go through the offers and choose whichever is the most suitable for them (21).
NFTs Debut on Instagram!
With the announcement about the updates to discover creators on Instagram and Facebook, Mark Zuckerberg also announced that they are also working to include NFTs on Instagram. NFTs (22) as we know are non-fungible tokens.
The advent of NFT has also led to the crypto art movement!
NFTs could be anything from pictures to iconic videos to digital art and even beyond, these are unique crypto tokens, hence non-fungible, they are based on blockchain technology and have unique identification codes and metadata.
Meta is now working to expand NFTs on Instagram. This means many creators would now be able to display their NFTs on Instagram, these NFTs would be supported by blockchain technologies such as Ethereum and Polygon. Solana and Flow will soon join this list!
Posting NFTs on Instagram stories might also become possible soon!
Can we showcase our NFT collection on Facebook as well? (23) Since the company is still testing NFTs on Instagram, soon it might become possible for creators and collectors to display their NFT collectibles on Facebook as well.
It was later announced that:
The Facebook test will enable the creators to cross-post on both Instagram and Facebook!
This feature would however first start among a small group of creators in the United States.
Fake Reviews: The Business Destroyers?
Feedback has now become very important for businesses, reviews and ratings could make or break a brand. If a brand has fake bad reviews or good reviews, either way it is never a good news, it is a problem that many are facing these days.
Therefore, to solve the issues (24) of people leaving fake reviews for reasons like eliminating the competition, petty acts of revenge, to attract more customers, etc. there have been instances where people give fake reviews because they are paid by the brands.
It has become important that people remain honest with their reviews and ratings, hence Meta has launched the new Community Feedback Policy. This policy is created to make sure that the reviews and ratings are based on honest and real purchasing experiences (25).
Hence...
Meta has been working on a lot of projects in the past months. Meta and many other tech giants have joined hands to build a forum that would ensure that its participants would follow the standards of interoperability to create an open metaverse.
So, all these borderless virtual platforms could be united for the convenience of their users.

Meta is working on improving their user's future experience, through Meta Pay, which would hopefully be interoperable. It has also bought many changes to its social media platforms by creating a marketplace for the creators to be discovered and get a potential business partnership.
It has also resolved the issues of fake reviews so that no one is at the shorter end of the stick!