Gordon Ramsay, the 16 Michelin star chef, is a force to reckon with. He is someone who has had unprecedented success in all his endeavors in life.
He is a celebrated chef, a successful restaurateur, and a famous TV personality known for his quick temper and sharp tongue.
Chef Ramsay has recently announced his debut in the Metaverse with a special event that is bound to revolutionize the online community.

So what is Hell's Kitchen?
Hell's Kitchen is a reality cooking series released its first episode in 2005. Celebrity chef Gordon Ramsay, who originated and starred in the British series of the same name, hosts the program.
Each season, two teams of chefs compete in the kitchen of a restaurant set up in the television studio for the position of head chef restaurant.
Throughout each season, a progressive elimination process reduces a field of 20 competitors to 12, then to one winner. One competitor is usually chosen to be eliminated in each episode. (1)
One of the most attractive features in this series is Gordan's reactions and angry outbursts, which are heavily dramatized for the audience's entertainment.
Gordon Ramsay divides the cooks into two teams before each new season begins. This places women on the red team and men on the blue team; each is given a chef's jacket with shoulder panels in that color.
The chefs remain on these teams for most of the competition, but Ramsay has the discretion to move a chef to the other side if he feels the chef will perform better there, he wants to experiment, or the team numbers are unbalanced. In each episode, there is usually a challenge, a dinner service, and then one or, very rarely, more chefs are eliminated. (2)
What are the challenges in Hell's Kitchen?
Usually, one or more challenges in each season allow teams to create a number of dishes, either for a banquet that will be held the next dinner service or as part of creating their own menus.
A "taste it, now make it" job, in which chefs must attempt to duplicate a dish Ramsay has only tasted, and a "blind taste-test," in which chefs must identify components. At the same time, blindfolded and sound-canceling headphones are other common difficulties. In some challenges, the team that finishes the full breakfast or lunch service first is crowned the winner.

How is the winner decided?

As the challenges progress throughout the season, the contestants get eliminated one by one until only two chefs are left.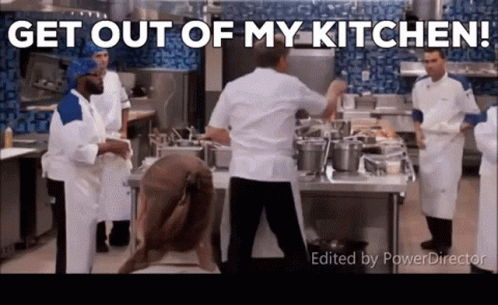 Each of the top two chefs is given a chance to create their menus and run a team of previous contestants through a complete dinner service by themselves.
Gordon will ensure that all menu items satisfy his high standards for high cuisine before serving, and he and his sous chefs will oversee the service to ensure that they are upheld.
Ramsay won't be engaged in any other way, letting the two remaining chefs show off their skills to run the line. If they feel fit, the finalists may switch around their stations or even eject their teammates from the kitchen.
Gordon chooses the winning chef based on his views, the guests, and other sources. (3)
The season's winner is awarded $250,000 and a chance to become the head chef at a restaurant. His predecessors also hang the winner's picture at the restaurant's entrance.

The success of hell's kitchen
In 2007, 2008, and 2009, Hell's Kitchen received three nominations for Primetime Emmy Awards in Outstanding Art Direction for Variety, Music, or Nonfiction Programming. Additionally, it was a 2007 and 2008 Television-Awards Show, Variety, Music, or Non-Fiction Program nominee for two Art Directors Guild Awards, winning one in 2008. (4)
Undoubtedly, Hell's Kitchen is an amazing show with a ton of influence, and if it's doing very well, why would Gordon want to enter the metaverse?

Ramsay and the metaverse
The Metaverse is an exciting new concept that has surprised the world. Everyone is looking for a way to get into it as soon as possible, and celebrities are no exception.
We have already seen celebrities like Snoop Dogg and Bella Hadid enter the metaverse through their line of NFTs. (5)
There have also been cases of professional gamers and celebrities coming together to play games in the metaverse.
With most celebrities shifting their focus onto the multiverse, Gordan has partnered with the popular Metaverse game "The Sandbox" to bring his hit show "hell's Kitchen" to the Metaverse.
There are two reasons behind this collaboration. First, Sandbox wants to show its users how even TV shows can be viewed and interacted with in the metaverse.
The second reason is that debuting "Hell's Kitchen" in Sandbox would possibly give the show an even larger target audience to increase its viewership and fan base.
This move by Ramsay demonstrates how the metaverse is starting to be used by television and film to engage audiences. Blockchain-based metaverses like The Sandbox and Decentraland, which provide businesses with digital land parcels to build their virtual worlds for engagement, fill this need.
What will this collaboration include?
The agreement will provide the culinary experiences for ITV Studio's LAND in The Sandbox and feature Gordan as a digital avatar. Based on Ramsay's challenges, viewers interested in participating in the metaverse version of the show can design digital dishes.
Due to this advancement, Hell's Kitchen is now the first major food-based show to enter the virtual realm.
If this collaboration is successful, other reality TV shows and films may also consider the metaverse as a place of investment and marketing.
The Metaverse is undoubtedly the future. This is made even more prominent because a cooking show is being marketed in the Metaverse, which previously would have been an unachievable feat.
However, what remains to be seen is the success of this collaboration between Gordan Ramsay and The Sandbox.