Nike Inc. (1) revealed its interest in the development of NFT video game integration in a patent application submitted to the United States Patent and Trademark Office (USPTO) (2).
A new methodology wherein video games will display virtual objects This virtual object could be an avatar, a shoe, clothing, or even a pet. Nike intends to market NFT-represented footwear and apparel.
Nike is processing its concerns over the need to influence regulations over the supply of digital objects within the virtual market. It is also affirming this as an opportunity for attracting users and engaging them with the video games alongside Nike's customizable collection, which might obtain brand engagement.
Although Nike has always been up-head with the transformations within the industry, be it sports or technology, E-commerce, physical brand stores, and artificial intelligence (AI) have all advanced over time with an emphasis on long-term strategic goals.
Aiming to capitalize on the new idea of the virtual market, the Metaverse, NFTS, and also the web3, it is expanding the brand by developing tech-driven collections in collaboration with the virtual genre.
Nike: The Metaverse
A user's avatar rotates for them as a representative in the virtual realm that is parallel to the real world. The metaverse is an evolution of the web-based on web3 designed to promote escape from reality with major internet-based establishment possibilities.
There are virtual spaces where users can chat, work, and even socialize. But experiencing it in the metaverse while revolving using VR technology and rotating through the parallel universe is what makes it a more tech-driven attraction for users.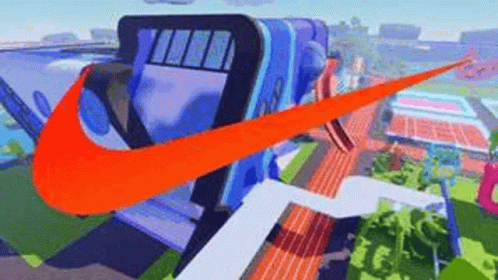 Nike's proposed metaverse, the Nikeland (3), is a space utilizing the Roblox platform to engage with the community for socializing and participating in virtual promotional events to create a full-fledged brand experience.
7 million users and more have engaged with Nikeland ever since it was launched. Various celebrity appearances like LeBron James (4), and exclusive digital products that let users' avatars wear Nike outfits and travel around the Roblox universe (5).
The Nike world eventually transforms its visitors into their digital brand ambassadors, yet these products are not limited to them. Users can test their reactions and strategic abilities in a variety of games, increasing their chances of winning prizes.
Each user on Nikeland is the custodian owner of a private area that may be used by the user to display their originality and creations through collectibles. Nike has always been a step ahead when it comes to selling lifestyle collectibles, be it in the virtual universe or the material world.
With its cutting-edge digital products and challenges that drive competition for top scores and accomplishments, it has already made a name for itself in the virtual market. This demonstrates its deliberate forethought in the metaverse, which crafted its superior existential identity in the virtual world.
Nikeland is accessible to all with free access and is filled with multiple minigames. Users get the chance to write their avatars with Nike drops such as the Air Force 1 Fontanka (6) and Air Max 2021 (7).
NFT and the web3 universe
Nike also swiftly adopted the NFT trend after seeing the influence it could have on the emerging blockchain-based world. While the majority of digital files, such as JPG images and MP3 songs, can be copied or replicated indefinitely, NFTs are special bits connected to digital data or items that make them uncopyable and one-of-a-kind.
To show its interest and the motive to expand the race in the NFT community, Nike bought the RTFKT studio (8), the next-gen NFT collectibles maker. RTFKT also claimed its collaboration with the teenage artist FEWOCIOUS (9) managed to sell 600 NXT sneakers (10) in a mere six minutes, worth a total of $3.1 million.
Cryptokicks Dunk Genesis (11) is the first Nike and RTFKT collaborated collection. Once a user gets a hold of this collection, they can customize it using the skin vials. Designers can add their special effects and patterns to these base sneakers.
Clone X (12) and NFT collaborate with Japanese artist Takashi Murakami to create digital collectible traits in metaverse-styled avatars. They asked the users to link their MetaMask wallets to verify their purchases and also enable them to play games and enter VR spaces where users can materialize their items.
This demonstrates Nike's goal to emphasize the importance of customization for its clients. By concentrating more on the younger millennials and Generation Z, we can create tailored products that appeal to our target market. It also intends to create a blockchain-authenticated AR experience and a virtual product experience for users.
Digital transformation
Even though Nike and its NFT collection are fetching exorbitant prices. The collection of CrytpoKicks (13) was auctioned on OpenSea for $4,000 to $9,500 in cryptocurrency and sold over 9,000 Nike Dunk Genesis NFTs.
Nikeland, a Roblox micro-universe, has attracted 7 million users from 224 countries, in addition to providing avatars and outfits to drive brand engagement. The moveset of LeBron James in Nikeland on Roblox was to inspire the community towards physical movements in the game.
LeBron engaged with the players and coached the participants while they were also rewarded for physical gameplay and the ability to unlock virtual products. They are also planning to increase engagement with special edition LeBron 19-styled Roblox virtual products (14).
The idea of promoting virtual items with a value comparable to the real world has been adopted by many, including Burberry and other well-known brands. Nike's revenue-generating approach in the metaverse NFTSs has been one of the most well-versed practices.
Creating a Nike Virtual Studio and the collaboration with the RTFKT tries to establish a best-in-class experience for the users and build web3 virtual products and experiences to scale the experience with a motive for connecting with its members to create, share, and benefit altogether.
Nike's digital collectibles are currently the segment with the fastest growth rate, accounting for 26% of the company's overall sales. To capitalize on the growth, it has increased its ways in both the real world and the virtual metaverse, spending a total of $853 million, or 20% of the quarter's budget.